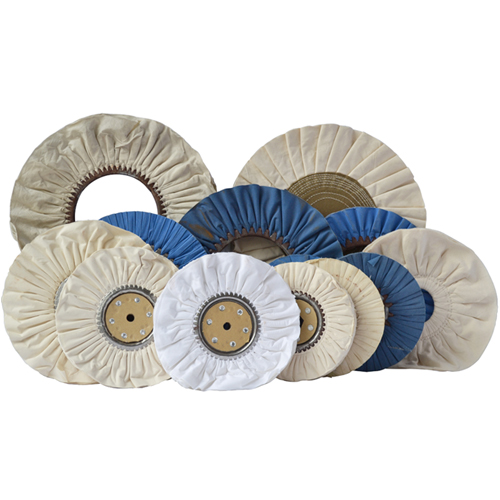 How to produce a bias airway buffs?
What is Airway Buffing wheel?
Bias Airway buffing wheel, also called as airway buffs, airflow buffs, Ventilated buffs. The special air folded structure brings bias airway buffing polishing wheel strong cutting force, high brightness, fine finishing, can cool the workpiece surface at a very short time. Make airway buffing polishing wheel widely use on metal and non metal products polishing, such as wood, stainless steel, aluminum, copper etc. Involved in variety of industries: furniture, automobile spare part, hardware, building materials,etc. We can see a huge market demand on such kinds of polishing wheel. However, not everyone know how to produce such kind of bias airway buffing/polishing wheel.
CRATOOLS has been focused on manufacturing of all the process machine for making airway buffing wheel for about 15 years. Successfully cooperated with several abrasive materials factories. Below we'd like to share our experience on manufacturing bias airway buffing wheel.
Now,let's dive in to learn how to produce airway buffing wheel.
1.Define your goal
It's important to define the target kinds of airway buffing wheel you want to make. If you've been in abrasive business for years, make a statistical report or revisit your sales parameters by conducting market research each year is crucial to define your target kinds of buffs to be produced. Try to answer these following questions:
Sisal wheel, soft cotton wheel, or resin treated cotton wheel?
OD , pages and thickness of the wheel?
To use iron ring only or add iron plate adaptor?
Diameter of center hole? 3 inch,5 inch,7inch, 9inch or others?
2.Get the right materials and tools
Once you have determined what kind of airway buffing wheel to produce, you can start to search the fabric, sisal cloth materials and iron clinch ring, iron plate adaptor raw materials in the markets.It is economic to get these materials locally. But if you can't get the right things, CRA will offer some optional materials for you. Click the following link to see what materials we have in the goods shelf.

Link: RAW MATERIALS FOR BUFFS
3.Get the right machinery
CRATOOLS has the full process machinery to produce airway buffing polishing wheel. Some of them are also workable for some process of other plane wheels like flannel buffs, sisal buffs, jewelry buffs.
Now, let's explore how to make airway buffing wheel by CRA automatic buffs production line.

Link: Buffs Produce Machine
Step 1). Bias Fabric Cutting and slitting And Rolling Machine
As we all know, to improve the aggressivity and increase serve life of airway buffing wheel, It's very necessary to cutting and rolling the fabrics or woven sisal to be 45°, or called as bias structure. The 45-degree oblique cutting structure ensures uniform wear of the polishing wheel and minimal dust generation.These machine is specially used for preparing 45° diagonal fabric rolls (bias fabric) materials. Fabrics can be cut and rolled into both 45° diagonal fabric rolls or diagonal grain roll.
CRATOOLS Machine link: CRA-500 Bias fabric cut,slit and roll machine
Video link: How to operate CRA-500 Bias Fabric Cut and Roll Machine?
Alternatives link: Why should be 45° bias fabrics for airway buffing wheel?
Step 2). Basic Forming-iris the fabrics or sisal materials into iron clinch ring
Airway buffs forming machine is the most important machine of the whole buffs production line.Unlike traditional manual forming way, CRA-800 airway buffs iris machine is a full automatic CNC machine, high efficiency and precision. It is mainly constituted by hydraulic system, cutter, cylinder, pressure gage etc. Production is very high, maximum 5000 PCS per day. The main blade parts that iris fabric into iron clinch ring is inspired by the camera shutter operation, the make the whole forming is very balance and stable.
Available for airway buffs from OD(Outer diamter) 200-600 mm (there is small verison CRA-300 machine specially for OD 100-250 mm).
Available for materials of soft or harden treated fabric, sisal etc.
Available for almost all hot sale center,Iron claw 2 inch, 2.5 inch, 5 inch, or Iron plate with round hole, hexagon hole.
Each control, full automatic, only need one worker to operate.
High production rate: Maximum 5000 PCS per day .
Interface and language in English.
Offer free training on machine and life time consultant.
CRATOOLS Machine link: CRA-800 Bias Airway Buffs Ventilated Sisal Buffs
Video link:  https://youtu.be/KnHadgnz0as
Step 3). Buffs Pressing
After forming machine, it is only a half-finished wheel, as the fabric and ring still loosed. This kind of wheel can not be used to polish directly. To ensure the hardness, density, endurance of polishing abrasive wheel, next step will be pressing by this machine. After this step the fabrics are tight and iron claw will be fully closed.
Character of this pressing machine:
Hydraulic(oil) pressure maximum 60 tons.
Ensure the density and endurance of buffing wheels.
Available for almost all kinds of wheels: cotton , sisal, treated fabric buffs, nylon etc.In airway, airflow,corrgugated, or plane way buffs.
One middle support for free comes with machine, other mold are customized.
CRATOOLS Machine link: CRA-600 Buffs Pressing Machine
Video link: https://youtu.be/ODWzZdMpIpc
Step 4). Buffs Rotate Test(NOT MUST TO DO Process)
Also called as dynamic balance testing, actually this is not a necessary MUST TO DO process during production of airway buffs.But if your customers are captious and very hard to be pleased, or your buffing wheel production are supplying to high end markets.This is necessary step for every wheel, or set as a casual inspection working procedure(depend on your quality mind and cost) .
What is rotate testing process?
Gernerally speaking, it is a simple equipment as below :
Made of a motor and bucket.
Simulate a realistic polishing and buffing environment, and real RPM.
Fixed the semi-finished buffs onto the motor and in the bucket.
Start rotate for schedule time.
The advantage of this rotate testing process
Use centrifugal force to send cloth or string waste out while it spins
Make the weave perfectly straight and divergent shape, make buffs look nicer
Test the tightness of iron clinch ring iris after the last pressing and iris machine process,guarantee user security
Make the next trimming step easlier and buffs will be perfect round shapes after the edge cutting and triming step.
In a word, evaluate your markets and clients, and your facotry condition ,profit margin and cost, determine if this is your necessary process.As I know most the big buffs factories already set this as a MUST TO DO process during the buffs production, but some are not. As this is simple tools our company will not offer machine for this step.
Step 5). Buffs Edge Trimming
Character of this edge cutting machine:
The last step of producing bias airway buffing wheel is Edge cutting or called as trimming. After this step it is a truly finished airway buffing wheel.
Belt knife: made by imported materials, length 3150mm
Knife sharpener: made by 2 motors and adjustment rack, for sharpening the knife
Knife rest: made by alloy-steel plate, have enough intension and stability, ensure the verticality of cutting face between belt knife and the buff wheel.
Working bench: use for automatically feeding, adjustment of sizes of the wheel.
Mechanical transfer arm,Feeder,Pneumatic parts,Motor,Speed controller
CRATOOLS Machine link: CRA-700 Buffs Trimming Machine
Video link: https://youtu.be/MHrrcJg4Qsc
4.Get the workers trained
After ordering from CRATOOLS your workers will get free training of our company and detailed operation manual, though these machines are all very automatic and easy to operate. Except this , you will also get below after sale service from us:
One year guarantee on essential parts
Life time free consultant
5. About CRATOOLS
CRATOOLS was established with the aim of introducing high quality Made in China equipment to all over the world . Factory located at the backyard city of Guangzhou—Qingyuan, where there is one of the biggest buffing polish materials production base of China, we started from production of all kinds of buffing wheel making machines. With our creative function , high efficiency, endurable quality, after 15 years, our Bias Airway Buffing Wheel Process machines are widely used by hundreds of buffing wheel factories in China. Especially the 800 Airway Buffing Wheel Forming Machine. By now we'd been successfully cooperated with many abrasive manufacturers, not only in local China, but also worldwide countries such as US,Mexico,Italy,Thailand,India,Vienam etc. We are not only a machine manufacturer but distributor of all kinds of polish buffs and abrasive, buffs raw materials, with our strong relationship with local manufurers, we can offer you very competitve prices.Below are some of our satisfied customers.